Postal Code Implementation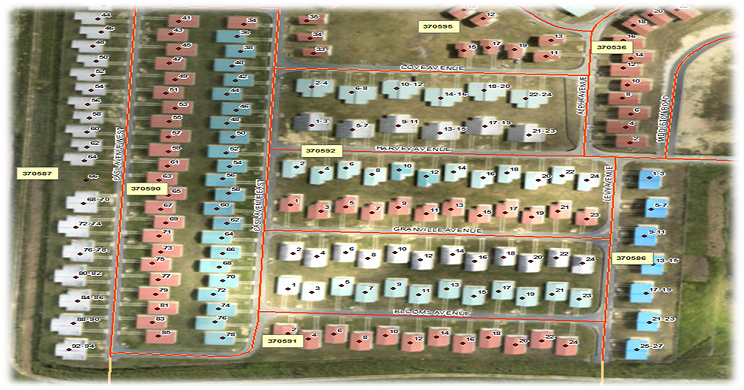 The Trinidad and Tobago Postal Corporation, in efforts to improve its service delivery and financial viability, has actively sought certification in the S42 standard in addressing from the Universal Postal Union, the World Governing body of Post. Having attained certification in February 2012, TTPost was charged with the mandate of implementing this standard throughout Trinidad & Tobago.
This project has links with other organizations & economic and social activities—opening up opportunities in direct marketing, e-business and other point of location based activities, such as emergency health services and national security.
When the Addressing Improvement Project was launched, Point Fortin was chosen as the pilot district, and as a result TTPost partnered with the Point Fortin Borough Corporation for implementation.
Resources were allocated from both Corporations to see the successful numbering & re-numbering of Point Fortin and environs.
The launch of the Postal Code System (TT-PCS) on March 28, 2012 is also a significant milestone. As part of this project TTPost intends to launch an internet – based postal code finder that would allow the public to search for their own postcodes online from our website, whenever and wherever it is convenient to them.  currently, customers can send postal code queries to our email address at postcode@ttpost.net
The Address Improvement project entailed the execution of a numbering/re-numbering exercise with the primary objective being the assignment of the S42 postal address to every single delivery point in Point Fortin. The address standard being assigned will include the building number, street name, community name, postal district, postal code and country name.
A total of 94 streets were numbered/re-numbered & appended with a six digit postal code
The Government of Trinidad & Tobago will benefit from a proper addressing system in order to provide utilities such as water & electricity. Businesses would benefit by being able to identify and locate new clients and develop and grow new markets. Improved addressing would also allow businesses to facilitate access to their services and products – including those ordered via the internet
"The lack of a complete, correct and unique national addressing system constitutes a major socio-economic challenge for a number of developing countries"- Universal Postal Union
The Postal Code System is completed for the entire of Trinidad and Tobago and therefore postal codes are available for all addresses.
Areas Completed and Launched- Tobago, Boroughs of Arima, Chaguanas and Point Fortin, Regional Corporations of Sangre Grande, Princes Town.
Areas in progress- Regional Corporations of Sipara, Penal/ Debe, Diego Martin, Tunapuna/Piarco and Mayaro/Rio Claro and San Fernando City Corporation.
Areas to be engaged – Port of Spain City Corporation, Regional Corporations of San Juan/Laventille and Couva/Tabaquite/Talparo.
For further information on this project please feel free to email us at postcode@ttpost.net or address@ttpost.net. You can also call us at 669-5362 Ext 307/139/227.